Guest article by Sujeet Chand, Senior Vice President, Advanced Technology & Chief Technology Officer at Rockwell Automation.
The IoT train has left the station.
That train has sped across the industrial landscape and already passed a number of key milestones in the past couple of years. Valuable business outcomes abound throughout industry. In the manufacturing industry alone, companies are gaining speed, productivity, efficiency and other business results from industrial IoT. For example, General Motors has connected about a quarter of its 30,000 robots and has avoided over 100 potential failures through remote monitoring over the past two years. A consumer packaged goods company completed several proof-of-concept projects to reduce downtime and cost of production through application of industrial IoT. An oil and gas company is applying industrial IoT to improve the efficiency of electrical submersible pumps and a mining company is focusing on reducing maintenance costs.
I see other important signs of industrial IoT's maturation.  Today, there is less discussion on IoT technology enablers and more focus on proof-of-concept projects and production to demonstrate the value of business outcomes, especially around improving productivity. We are constantly learning pragmatic lessons from the growing number of industrial IoT projects across industry sectors such as automotive, tire, consumer packaged goods, life sciences, and oil and gas.
Balancing Analytics at the Source and in the Cloud
Since data abundance is the new norm, we're learning when it makes the most sense to analyze it in real-time at the source, or store it in the cloud for more long-term examination. Conditioning raw data into contextualized data, preferably at the source, is becoming an increasingly valuable best practice. I'm seeing more focus now on fog computing from companies and industry groups. Companies realize now that if they store every bit of unstructured data with the hope of finding patterns and business value, they will spend significant resources to clean up and organize the data later. This is no different than tossing every piece of mail that we receive each day into a pile with the hope of finding value from an enormously accumulated heap in the future. Application domain knowledge is essential to organizing the data and knowing where to look for patterns to extract business value.
Companies are also leveraging scalable computing to implement IoT. The industrial compute infrastructure includes embedded processing in smart sensors and actuators, industrial controllers, plant-floor servers, and edge computing resources, such as general purpose computing in routers and switches. When complemented with the cloud, this spectrum of compute power from embedded to servers is collectively leveraged to develop IoT solutions. Analytics, for instance, can run within a machine and in the cloud. The type of analytics that run within a machine typically results in real-time actions such as changing a set point in a controller.
Cloud-based analytics can provide important insights across multiple assets such as optimizing the energy profile of pumps distributed across locations. This is akin to modern automobiles that have several hundred microprocessors within the car. A significant portion of predictive analytics, such as oil condition monitoring, is done within the car itself. Cloud computing is an important element of the compute spectrum to analyze maintenance trends and performance of a certain model year.
Security Must be Pervasive
Secure networking of assets and the compute infrastructure is another key requirement in today's industrial IoT landscape. Companies are leveraging reference architectures and sharing best practices to securely connect their assets to drive IT-OT integration. Standard Ethernet, wired and wireless, is becoming the network of choice with rapid growth over proprietary networks. Industrial security has several important considerations such as network security, content protection, authentication and authorization, tamper detection, and recovery/resilience. Manufacturing companies are relying more and more on a best-of-breed ecosystem of partners and industry best practices to implement secure IoT systems.
It Takes an Ecosystem
No one company can deliver Industrial IoT in a box. And no one company can do it all alone. An ecosystem is essential to deriving business outcomes from Industrial IoT. This ecosystem includes technology and solution experts with domain knowledge of the industrial applications. We are past the inflection point for industrial IoT. The best is yet to come.
---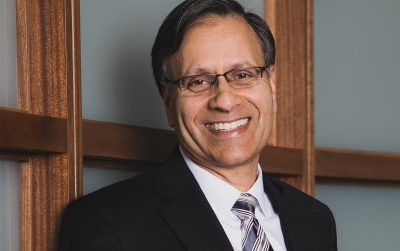 Sujeet Chand is responsible for leading R&D and global business development at Rockwell Automation with a focus on making a difference for customers by helping them achieve greater productivity and sustainability. A strategic leader and engineer with a unique perspective on technology, innovation, and customer needs, Sujeet serves on a number of government, industry and higher education advisory boards. He holds 40 patents, has published over 75 technical papers, and has received a number of distinguished honors for his engineering and technology leadership. Sujeet earned a Doctor of Philosophy degree in electrical and computer engineering from the University of Florida.