Guest article by Vernon Turner, Senior Vice President of Enterprise Systems and IDC Fellow for The Internet of Thing
Over the last three years, the scramble to find the pot of gold at the end of the Internet of Things (IoT) rainbow has been very illusive and frustrating for everyone. IT vendors read about the huge economic value forecasts of IoT and went into full-scale hype marketing – talking about IoT as if it was part of their core values, yet not knowing how to deliver a solution. The C-suite didn't fare much better, as they tried to figure out how if a low-cost IoT sensor was going to be a life line to digital transformation, or, the security leak that was going to bring them to their knees. However, there is good news on the horizon, especially for B2B businesses, as the market is maturing and several key signs are visible as well as some best practices. To help put some order into the discussion, I recently looked at what I had seen in the past 6 months of our research and discussions with customers and suppliers. Here are a few of the key findings that I'd like to share with you.
Then there is another business model where IoT is an integral part of Digital Transformation (DX). Customers who link IoT and DX into a single strategy are fast becoming highly differentiated from their competitors. Their common traits include:
Guess what? Not all IoT solutions need to be complicated. However, every one of them needs to put the customer in the center rather than deliver a technology-heavy implementation. Some customers simply want to connect a device through a cloud infrastructure and use a track-and-trace solution to give them their IoT business value. These customers are happy that they have new information about their customer that they previously never had. This is a good business model for them! However, they do have some very common business traits. These include:

They don't need much hand holding and therefore don't spend much on services and systems integration
They don't do much analytics and don't integrate the IoT solutions into their existing operational data systems.
They do tend to operate in siloed organizations and therefore sharing and collaboration of IoT outcomes is difficult.
They are beyond any proof of concepts, but are still in a learning curve (they don't know what they don't know), and in some form of incubation.

If you are an IT vendor or consulting firm, you must ask, "How do you know where in the world to place your energy into IoT solutions?" "How do you know which IoT markets are ready and moving?" We surveyed over 4,500 IoT decision makers in the middle of 2016, and developed 'IoT Velocity', where we found that some countries and industries were moving faster than others. For example, the United States and Australia had the highest velocities out of 25+ countries in the survey, while retail, finance and manufacturing lead the industries. With this knowledge, marketers, investors, strategists and product developers can now target their efforts as opposed to trying a shotgun blast approach or walking in the dark.

They have made the decision to run their business as close to 100% 'As A Service' business model. Here, they have already left behind the notion that their value model is locked up in a product-centric value chain. They have already embraced the 'services-centric, value agility model' and over time will mature into an 'ecosystem-value network' model.
These customers embrace systems integrators. This is a complicated deployment that is high in service support.
They link their IoT business outcomes directly into their back-end office systems and are ready to adopt intelligent ERP (iERP) systems that are actively curating and collecting data sources from analytics, machine learning and cognitive systems. This is a highly differentiated business system that runs on a cloud infrastructure, that connects to external data sources which are used to enrich the iERP systems and eventually create very high value business outcomes. They are have become a digital company!
Finally, infrastructure plays an important part to any of the business models that customers deploy. Connectivity decisions should be made solely on the characteristics of the IoT application. Customers shouldn't fret over connectivity protocols – there are plenty to choose from and all of them can be seamlessly connected to the corporate networks. However, time and consideration should be placed into the right IoT Gateway solution (where sensors and the initial data gets are first collected and aggregated) and the right IoT Platform provider (of which there are many weak variants and only a handful of comprehensive suppliers). Ultimately, the Gateway and the Platform will create a new function in this marketplace where they become the IoT Broker – the place where IoT data, applications, solutions, etc. will be managed by a full service IoT provider.
2017 will be the year when IoT solutions become monetized, especially in the industrial sector. IoT vendors will begin to smile, investors will begin to relax, and businesses will begin to become digital businesses because of the benefits of the Internet of Things.
---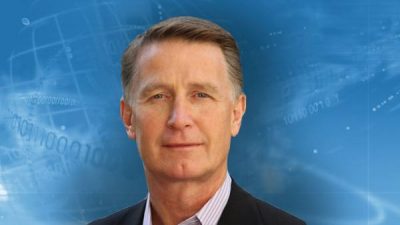 Vernon Turner serves as Senior Vice President of Enterprise Systems and IDC Fellow for The Internet of Things. He has helped drive research on the evolution of the Internet of Things, the next-generation Internet Infrastructure, including cloud computing, converged IT infrastructures, microprocessors and modular server and datacenter designs. He recently created IDC's leading Internet of Things research domain, and is a member of the IoT World Forum Steering Committee.
Turner has a strong CIO-supported background in the technology requirements of the finance and banking communities. Prior to joining IDC, he was Vice President, Technology Services, with State Street Bank in Boston where he managed the deployment of ICT across a multi-data center environment. He held similar responsibilities at Fidelity Investments.