Guest article by Georg Kopetz, TTTech Co-Founder and Executive Board member, with Simon Brooks, Product Marketing Manager Industrial IoT, TTTech
The Internet of Things (IoT) is at its heart a story of convergence. It's about billions of smart devices becoming connected to the internet and making time-critical data accessible on an unprecedented scale. In the industrial and automotive sectors, it's especially critical that IoT-generated information flows are safe, secure and timely to ensure the robustness of real-time control functions – often within a few thousandths of a second. Think about the time criticality of an autonomous car's braking system during a highway emergency or the precision required of robots assembling high-value products in a manufacturing plant. Lives and big dollars can be at stake.
IoT's growing complexity of ecosystems, such as control loops in so-called "systems of systems architectures," make convergence—or unification—of control systems increasingly essential in industrial operations. While there have been many solutions to this challenge over the years–eg., fieldbuses such as CAN to various industrial Ethernet implementations–none of them has been truly endorsed as a global IEEE communication standard. This often results in industrial and automotive systems that exist as proprietary islands within their wider environment. Within the scope of the industrial and automotive IoT, this situation has been a barrier to sharing and accessing data beyond the limited confines of individual systems.
Enter Time-Sensitive Networking (TSN), which is causing waves among industrial and automotive silicon and system vendors. In a nutshell, TSN offers a new way to send time-critical traffic over a standard Ethernet infrastructure, enabling the convergence of all traffic classes and multiple applications in one network. TSN is now poised to be the networking platform that makes the converged IoT networking vision a reality across disparate industrial systems. This is because TSN finally offers the real-time performance required for critical applications in the form of an open IEEE Ethernet standard.
In fact, TSN refers to a collection of IEEE sub-standards, each of which provides a new or improved functionality to Ethernet. The core mechanisms of TSN focus on time-synchronization and traffic scheduling. By scheduling network traffic based on a reliable shared time base, TSN guarantees on-time delivery of critical information at very low latencies and with minimal jitter. These guarantees mean that critical traffic can be mixed in with any other non-critical traffic on one converged network without causing any interference to critical applications. Because TSN is a part of standard Ethernet, it scales to 1Gb, 10Gb and beyond. This provides a backbone for networks to be built that can support increasingly data intensive control applications such as Augmented Reality and Human Machine Interfaces on the factory floor, or various sensors in an autonomous vehicle to create awareness of its environment.
In manufacturing, we have seen a tectonic shift towards TSN over the past 12 months. Nearly all of the major automation vendors have now publicly stated their support for the TSN standard. They plan to build TSN functionality into their future products, even for motion control applications. A group of companies has also announced their intention to combine the Open Platform Communication Unified Architecture (OPC UA) data exchange standard with TSN in order to provide customers with a truly vendor independent and interoperable solution. The addition of OPC UA makes it even easier to share real-time control data among machines across a converged TSN network and to update production data in real-time, whether in the fog or in the cloud.
Major automotive companies are also designing TSN into their next generation of vehicles. Converging critical and non-critical communication over a TSN Ethernet backbone network is an efficient response to the sheer amount of data and control loops that now need to be shared between various vehicle domains. Thanks to the guarantees provided by scheduled packet forwarding, TSN can connect sophisticated sensor systems like vision with classical control functions such as braking and steering while also integrating infotainment and audio-visual data. This solves packaging and weight constraints as well as accelerating the development of highly automated (autonomous) and connected vehicles.
Although TSN might appear to be an overnight phenomenon, standardization efforts have been in the works for many years. Throughout that time, TTTech has been a close partner of Cisco in standardization and product development. Cisco is now gearing up to deploy TSN with the announcement of a TSN enabled variant of its IE4000 industrial switch that is based on TTTech's TSN implementations. Customers now can take advantage of the benefits of TSN as they build network architectures that converge mixed criticality traffic, reduce infrastructure overheads and provide access to data from previously closed-off industrial systems.
For industry, this means latency is guaranteed through switched networks, critical and non-critical traffic can be converged in one network, sub-systems can be integrated more easily, and network faults can be diagnosed and repaired faster, among other benefits. Bottom line, more data can be analyzed more quickly and accurately to improve performance, reliability, and operations.
---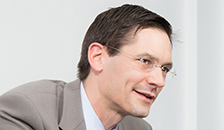 Georg Kopetz is a successful European tech entrepreneur. He is co-founder and member of the executive board at TTTech, a high-tech growth company focusing on robust and safe networked control systems inside vehicles and industrial machines. TTTech is a driving force behind the networked real-time controls evolution enabling autonomous machines and Industrial Internet of Things. Solutions from TTTech can be found today onboard planes and spacecraft from Airbus, Boeing, Embraer and NASA as well as in cars from Audi and Volvo.