Guest post by Anoop Nannra, founding and Executive Board member of the Trusted IoT Alliance, Executive Committee member of the Chamber of Digital Commerce, and Cisco representative for the Enterprise Ehtereum Alliance.
In the past few years, the Internet of Things (IoT) has unleashed a wealth of innovative technologies with the potential to transform all industry sectors. In turn, these innovations are disrupting the Internet itself, multiplying new levels of value for both business and the IoT network.
Analytics . . . Artificial Intelligence . . . Fog Computing . . . Cybersecurity . . . Platforms . . . Device Management . . . Low-Power, Wide-Area Networks . . . Drones – these top most "IoT Technology" lists. They're often cited among the key catalysts accelerating business outcomes, whether it's to improve productivity, lower costs or generate new revenue streams.
Now enter one of the latest prospects to emerge as the next big IoT value creator — blockchain.
Blockchain technology underpins bitcoin
First, what exactly is blockchain?  Blockchain, which is best known as the enabler for cryptocurrency, is a distributed method of transferring and tracking value online via an ongoing list of transactions or records, called blocks. These blocks are cryptographically linked and validated in peer-to-peer networks, which makes it virtually impossible to alter data in any single block without altering data in all subsequent blocks—and these records are replicated in thousands of computers around the world.
Once a single transaction is validated and recorded, it is automatically updated everywhere on the network. In effect, blockchain enables any ecosystem of participants—enterprises, machines, or individuals—to securely exchange and distribute goods, services, data, and currency with assurances that it's transparent to them, accurate and secure.
These assurances address two of the industry's biggest concerns about IoT—trust and security—and the technology has therefore caught the eyes of innovators far beyond the world of digital currency. Blockchain applications to enable secure exchanges between entities in distributed networks are limited only by the imagination.
In addition to its security strengths, blockchain can add new levels of business value by cutting out the middleman and trusted third parties in transactions and processes, which can be applicable to many businesses.  Projects, pilots and proof-of-concepts are emerging in nearly every sector, ranging from finance and banking, autonomous cars and mining, to global supply chains, healthcare, retail, and much more.
Blockchain + IoT Unleashes the Internet of Value
I believe that the "sweet spot" of blockchain could very well be at its intersection with IoT. Together, they form an Internet of Value that provides secure value flow across a whole range of industry segments.
In the IoT space, we are seeing very broad application—such as managing mining site data and reporting, manufacturing supply chain, transportation data security, oil and gas operations, energy production, and insurance risk management. All of these applications are connected, exchanging value, and disrupting sometimes decades-old business processes and technical workflows.
Blockchain has a large market potential
The market potential in the blockchain space is significant. Goldman Sachs estimates the savings from blockchain adoption in just the capital markets space alone would be as much as $12 billion. Total available markets from other segments are still being evaluated.
Nonetheless, we shouldn't get ahead of ourselves. We must remember that blockchain is still a nascent and pre-competitive technology emerging from the experimental stage. Blockchain does hold much promise, but there's a lot of work ahead on many fronts for it to mature and scale into market-ready applications throughout different industries. There will be more than one approach to the blockchain network of the future, which like the Internet, is a collection of multiple networks.
The industry is moving swiftly to capitalize on these capabilities starting with the formation of consortia to ensure interoperability. For example, in my blog last week, we announced that Cisco has joined forces with the blockchain ecosystem, investing and expanding engagement with two major industry consortia:
Enterprise Ethereum Alliance (EEA): To be taken seriously, blockchain needs enterprise-ready capabilities. That is the focus of EEA.
Hyperledger: Cisco is a founding member of the Hyperledger project created in the Linux Foundation in December 2015, and we are now expanding our commitment as a premier member. This forum is recognized as a foundational open source initiative that will define how enterprises should respond to blockchain growth opportunities.
Cisco, Bosch, Bank of New York Mellon, Foxconn, and Gemalto are also leading the formation of the Trusted IoT Alliance, focused on ensuring blockchain interoperability in IoT applications.
Now that blockchain is starting to mature, the industry is getting ready to move from pilots to real-world deployments. Industry consortia like the above, composed of major end users and the ecosystem of blockchain developers, must continue to collaborate closely to drive standardization and interoperability on the network. Interoperability is the only way blockchain can scale and capture disruptive value for businesses across the industrial IoT landscape.
What does this mean to you? Most likely, it means opportunity. There are still many benefits to blockchain that have not been realized or discovered, so now is the time to look for strategic opportunities to deploy blockchain in your organization. Help create industry standards and ensure interoperability by getting involved in one or more of the consortia listed above.
One thing is for sure: Blockchain is coming, and it will drive disruption. Take action now to capture the full potential of the Internet of Value and shape the future of blockchain and IoT.
---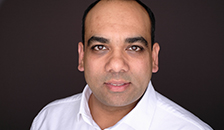 Anoop Nannra, Head of Cisco's Blockchain Initiative, is founding member and an Executive Board Member of the Trusted IoT Alliance, Executive Committee member of the Chamber of Digital Commerce, and Cisco representative for the Enterprise Ethereum Alliance.